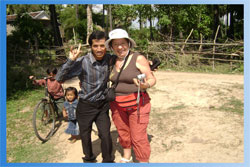 V
olunteer for a Travel company from instant or in-place as a career can be fun, exciting and lucrative if you are willing to put in a little extra work for your journey. Learn as much as you can about the industry and the system through which great work gets published.
With our previous volunteers they spent all of their extra time traveling to everywhere in Cambodia. They never paid for a single vacation themselves. How did they pull this off?
If you are interested in pursuing this kind of volunteer work, it is definitely worth it to reach us. You can help us as a local and make a local company and its people to a sustainable way in this field. Moreover you will get back a free journey in Cambodia and be inscribed in our memories, blogs, websites to publish. Otherwise this worth of contribution will be a greater work to share our pro-poor community and people.
Asia Explorer Travel-Cambodia
welcomes those who are interested in Cambodia and Cambodian Culture to join our Volunteer Team for helping us to achieve our Responsible travel business practice to a sustainable Cambodia's tourism. If you have a desire to travel to Cambodia and want to learn about Cambodian. If you are from an English-native speaking countries, you are more than welcome to join us. We appreciate your hard work and contribution to Asia Explorer Travel and people of Cambodia.
By volunteering, you will gain a better understanding of Cambodia, its culture, and its people. You will also get the chance to win a free trip.
Asia Explorer Travel-Cambodia is seeking for online volunteers who could help us to improve our website to make it the best place to shop Cambodia tours and information!
We are now offering the English webpage editor volunteer work, you may contact us if you are interested or you have the skill required. If you are capable of:
1) Proofreading of our web pages and articles. Help us to use appropriate English, namely spelling, vocabulary, grammar, and sentence structure.
2) Provide us with Cambodia travel ideas and suggestion from a westerners' perspective.
Skills required
:
- Excellent English writing skills
- Pay attention to details when editing our web page.
- The ability to commit sufficient time to take on a project and to finish it in a timely manner.
- Access to internet regular with Microsoft word and excel installed and basic computer knowledge required.
But this is only one way of helping us, coming to Cambodia and working at our office. Now it's even possible to help us from your country. For people who want to do volunteering but don't have the time or the money to travel to another country, this is a new option!
If this attracts you, than contact us please. We will have contact over mail so we can talk and discuss about the things you can do for us. It's very easy by mail because we have good working computers en internet so we can answer your questions very fast.
We give you an assignment you can do for us, and you will do it at your home. If you have any questions or ideas for the site, you can let us know and we will help you with making those ideas working.
You help us a lot with your volunteer work, so we offer you a free trip through Cambodia. And we even offer you a place to stay if you want to do the work here in Cambodia.
Don't hesitate to contact us if you are interested. We are very pleased to hear from you soon!
Please Contact Us at:
E-mail:
lekha@asiaexplorertravel.com
Skype: lekha-asiaexplorertravel