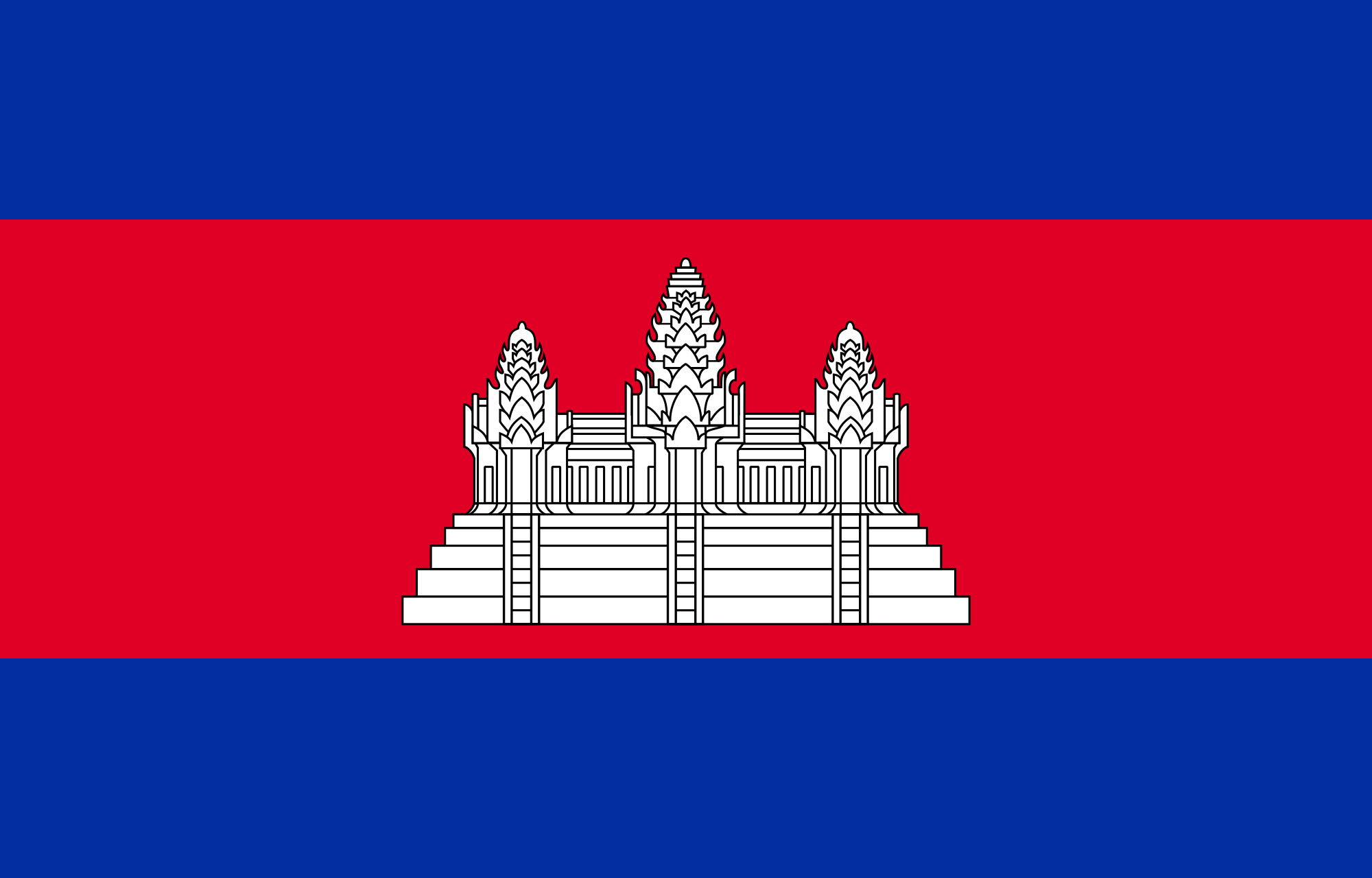 The Kingdom of Cambodia is located in Southern Asia of the southern part of Indochina, covers an area of 181,035 square kilometers, and has a population of 14.8 millions with respecting the major religion of Theravada Buddhist (97%) and other ethnics like Vietnamese, Chinese, Cham, accompanied by several hill tribes in the northeast country.

For the long period of Cambodia was started, nobody else be sure that when did people live, but with a carbon-l4 dating from a cave in northwestern Cambodia suggests that people using stone tools lived in the cave as early as 4000 BC, and rice has been grown on Cambodian soil since well before the 1st century AD. The first Cambodians likely arrived long before either of these dates. They probably migrated from the north, although nothing known about their language or their way of life. By the beginning of the 1st century AD, Chinese traders began to report the existence of inland and coastal in Cambodia.

The history of Cambodia began in the first century A.D with the establishment of a State called Funan. Funan is still renowned as being the oldest Indianized State in the whole of Southeast Asia. Modern day Khmer customs and language evolved from this period.

Sanskrit, which is part of the Mon Khmer family dialect, was the written and spoken language of that time. The officially known religion began with Hinduism, which over the years evolved into Buddhism. Distinct characteristics of that period remain today. These features can be recognized in ancient buildings, and ancient farming methods,country clothing.

Cambodia's modem-day culture has its roots in the 1st to 6th centuries in a state referred to as Funan that gave way to the Angkor Empire with the rise to power of King Jayavarman II in 802. The following 600 years saw powerful Khmer kings dominate much of present day Southeast Asia, from the borders of Myanmar east to the South China Sea and north to Laos. It was during the period that there are more than two thousands of temples were built in the almost whole country. A special one, Angkor Wat temple is the most famous, built by King Suryavarman II, Bayon temple by King Jayavarman VII and Preah Vihear temple by three of kings which under watching of the World Heritage.

The State of Funan was situated in what is known today as the southern province of and lasted for a period of 600 years. This dynasty gave way to the powerful Angkor Empire that was eventually responsible for establishing the Khmer Kingdom, this empire covered much of South East Asia, as we know it today. The territory stretched from Burma, which lies east, to the South China Sea and further north, right up to Laos.

From than today, Cambodia governs many regimes like ; Funan, Chenla, Angkor, Chaktomok, Longvek, Oudong, French Colony, Sangkom Reas Niyom "Modern State", Khmer Republic, Democratic Kampuchea "Pol Pot Regime", and now the Government conduct democracy.

Cambodia nowadays, occupies only a small corner of the Khmer Empire that extended over a large part of Southeast Asia from the 9th to 14th century. Cambodia is once again a peaceful and the most attractive place to visit in Asia; thousand of ancient temples, colonial building, unspoiled natural resource, white sand beach, hill trip, rice field, national park, zoo, a big lake of fresh river in Southeast Asia and many other re-creative resorts ,

Phnom Penh is the capital of Cambodia, which is the heart of Government Constitutional Monarchy conducting. Tourism, Clothing, Rice, Rubber and many other industrial productions especially paddy are the main economics sectors for exporting. For the gateway from international dial code is (+855) and internet domain (.kh).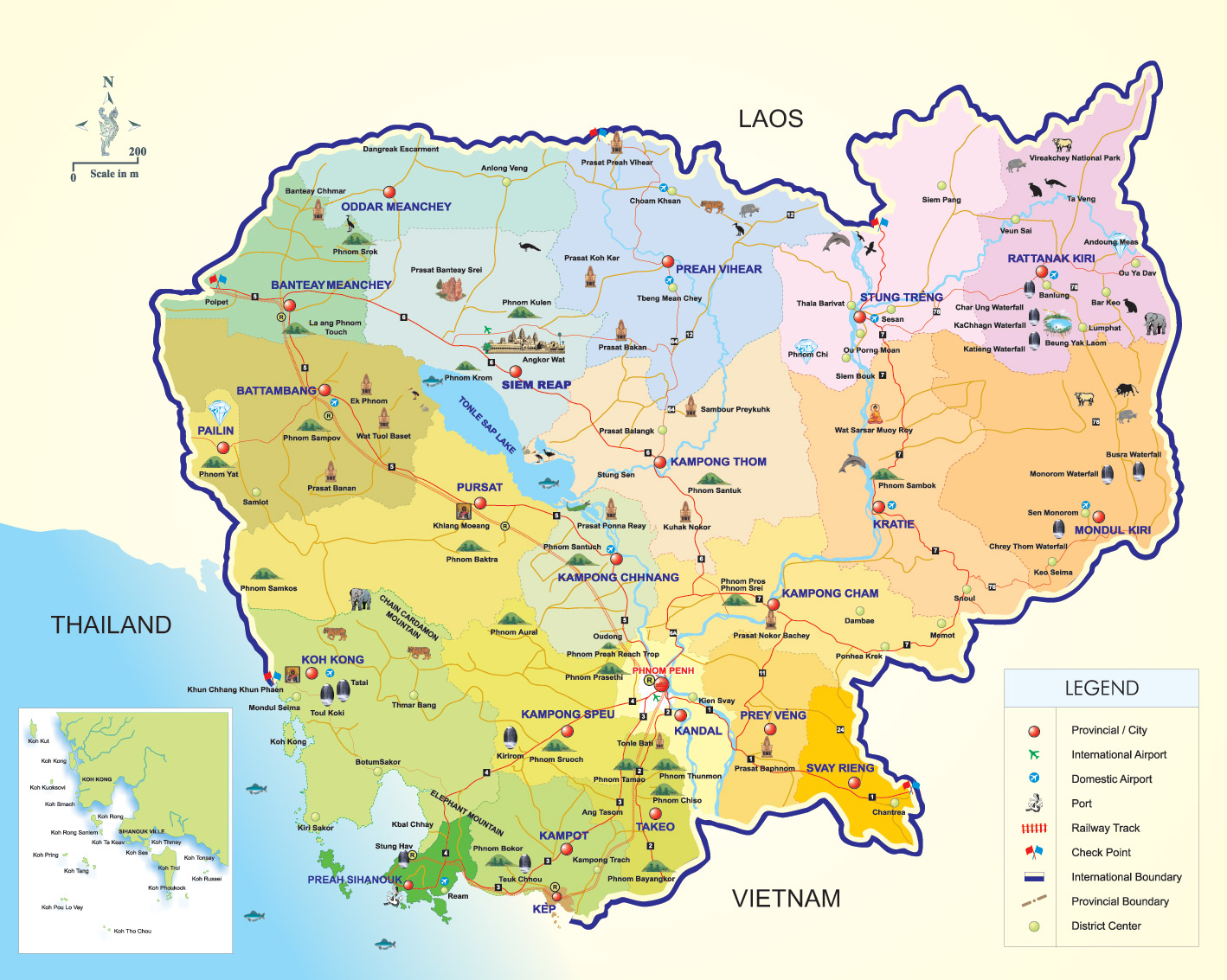 VISA CONDITION AND FEES:
To visit Cambodia you require a Cambodian visa. This can be applied upon arrival in Cambodia's airports, other borders checkpoint or E-visa. The visa is valid for 30 days and costs $20. Please have $20 (in cash US dollars) ready on arrival. You will have to fill in a form with your personal details and the hotel you will be staying at (please refer to your itinerary and list the first hotel you will be staying at). Please also have 1 passport photo ready which will be fixed to your visa application. You will also require a passport size photograph for your Angkor temple pass.One month business visa are also available and cost US$25 but can be extended indefinitely.
IMPORTANT NOTE:
It is your responsibility to ensure that your passport is valid 6 months after your intended stay in Cambodia. If it is not you may be refused entry.
PASSPOT NAMES:
Your air ticket must be in the same name as your passport. Please advise us urgently if you have completed your booking form in a different name from your passport. It can be useful to carry a few extra passport photos with you and photocopies of your passport, insurance policy and any other important documents.
AIRPORT DEPARTURE TAXES:

1.International flights:
a) Cambobian nationals: adult: USD 18, aged under 12: USD 10
b) Foreign nationals: adult: USD 25, aged under 12: USD 13

2.Domestic flights:
a) Cambodian nationals: USD 5
b) Foreign nationals: USD 6
Place of payment: airport of departure
Exemple:childrend under 2 years of age

SECURITY:
If you have traveled in Third World countries before, you will be aware of the exceptional attention that has to be paid to security of your personal possessions. Regrettably, thefts are common in airports, train stations and big cities where opportunists make a living from the negligence of tourists. While we do everything we possibly can to ensure the security of your baggage, it is ultimately up to you to make sure your belongings are safe throughout your trip. Never leave cash or valuables lying around in your hotel room. We advise you to lock your suitcase and kitbag. Important items such as money, passports and other vital documents should be carried in a money-belt or zip pockets, particularly when touring cities and towns. Having issued this warning, we should make it clear that the relatively sparsely inhabited rural areas in the mountains with their stable communities are some of the safest places in which to travel.Never carry anything onto an aircraft for someone you do NOT know, and never leave your bags unattended in airports.
CLIMATE:
Climate has a tropical climate that is warm and humid 27 C.
There are two distinct seasons: the Rainy season and Dry Season. Dry season is divided into two sub-seasons: cool and hot.
• The Rainy season : From June till October 27-35.C (80-95.f)
• The Dry season (cool) : From November till February 17-27.C (80-95.F)
• The Dry season (Hot) : From March till May 29-38.C (84-100.F)

CURRENCY:
The local currency is Riel although US Dollar is widely accepted in Cambodia

• US$1 = 4100 R "Khmer Riel"
• EUR1 = 5371 R
• GBP1 = 5801 R
Visa, Master, JCB Card, American Express are accepted in some of the bigger hotels and restaurants. Prices are usually quoted in USD and Riel. ATM machines are available at major cities and all provinces & district, super market, mini mart, many other places, widely providing in the whole country.

HOW TO REACH AT CAMBODIA:
BY AIR:
Phnom Penh,Siem Reap and Sihanoukville cities are still opened air to be the major gateways to access to and from Cambodia.

Flight to Phnom Penh are available from Bangkok, Ho Chi Minh, Hanoi, Singapore, Kula Lumpur, Taipei, Vientiane, Hong Kong, Shianghai, Guangzhou, Pakse, and Seoul, directly.

To Siem Reap are available from Bangkok, Ho Chi Minh, Hanoi, Singapore, Pakse, Kuala Lumpur, and Seoul.
To Sihanoukville are possible from Phnom Penh, Siem Reap

Some airlines are operating to and from Cambodia like:
Cambodia Angkor Air (domestic airline),Thai Airways, Silk Air, Malaysia Airlines, Bangkok Airways, Lao Airlines, Vietnam Airlines, China Southern Airlines, Eva Air, Jet Star Asia, Air Asia, Korean Air, Asina Airlines, Shanghai Airlines, Indochina Airlines
BY ROAD:
It is facility to transport from or to other countries in the region, which exist complex border like: The Bavet international border from Vietnam is the most convenient to Phnom Penh, the Prek Chak, Phnom Den Takeo Province, as well. The part of southern is most easy to arrival at Koh Kong province, Koh Kong International border, which is from Trat, Thailand, and the north from Poipet International border in Cambodia from Aranhprathet, Thailand and Dom Kralor International border from Donkhon Island, Laos.
BY BOAT:
From or to Cambodia, Veitnam "Mocbai " arrival at Phnom Penh, Thailand "Trat" can reach at Koh kong and Sihanouk provinces , From Laos at Voeun kham or Domkralor International border reach at Steung Steng province.