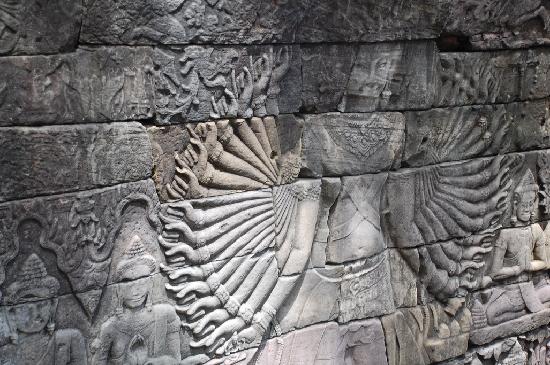 Overview

Banteay Chhmar has a lot to offer to interested visitors. That goes from visiting 12th century Angkorian Temples – the most famous one called Banteay Chhmar Temple –, Pol Pot Baray, the silk center of Enfants du Mékong to getting an insight into rural life of the Cambodian countryside and its wildlife.
Location

Banteay Chhmar is located in Banteay Meanchey Province in the Northwest of Cambodia.
Accessibility
Banteay Meanchey Town can be reached by National Road 56 from Phnom Penh by a 5 hours drive with bus, minibus or taxi. From Banteay Meanchey Town to Banteay Chhmar it is another 59km by minibus or taxi which takes around 1.5 hours.
Establishment
Banteay Chhmar was established in 2006 by an NGO called APLC (= Agir pour le Cambodge) and currently is supported by Global Heritage Fund.
Attractions and Activities
Banteay Chhmar consists of a XII century Angkorian temple complex. One of its masterpieces is the so called 'Temple of the cat' which is to be renovated by the Global Heritage Fund. It also contains both barays (rectangular water reservoirs) from ancient times and from under the Pol Pot regime. Visitors can explore the temples and barays and do a picnic there. Food will be prepared by a local women's group. Apart from that visitors can also discover the surrounding rural life by ox-cart, bicycle or Koyun, meet with village people and spend a night in a traditional wooden homestay. To complete people's interests there is a Mekong Silk center nearby the ecotourism site, too, in which visitors can pursue the process of gaining silk products and can finally buy local products there.
Services Excluded
Other personal expenses such as drinks, laundry, transport to Banteay Chhmar and return.
CBT Products and services include homestays, ox-cart trips, bicycle and Koyun rental, picnic inside the temples or along the baray prepared by a trained women's group, performances of traditional music, a rice show and English-speaking local guides.