Tour Code: AXT-MCRC2
Tour Date: 13Days/12Nights
Departure Date: (29-31 Dec, 2011) / (27-29 Jan, 2012) / (23-25 Feb, 2012)
Day 01: Fri 27 Jan, 12: Phnom Penh - Toum Teav II (Kok Chen/ Oudong)
After breakfast at the hotel, guide transfer you to the Floating Port in Phnom Penh to embark the boat at around 11:00 AM.
12:00: Toum Tiou II is open for embarking. Security briefing. Lunch on boat on the way to Kôh Chen (Chinese Island).


15:00: Arrival at Kôh Chen, small village of whose inhabitants specialize in silver and copper smit. They make ornamental items, including delicately engraved tropical fruits, used in tradtional ceremonies at the pagoda of for marriages.

The distant hills of Cambodia's old capital Oudong, and its royal stupas can be seen a few kilometers away from the ferry. At the top of the hill, you will see the ruins of Anthareu temple.

18:00: Passengers re-embark to the Toum Tiou II. Leaving Kôh Chen to Kampong Tralach. Toum Tiou II drops anchor close to village.

19:30: Welcome drink and info meeting about cruise, and a crew introduction. Welcome dinner. Overnight on boat.
Day 02: Sat 28 Jan 12: Kampong Tralach – Kampong Chhnang
07:30:
Breakfast during navigation, and departure for Kampong Tralach to visit its wonderful Vihara belonging to Wat Kampong Tralach Leu pagoda. To get there, we cross Kampong Tralach Krom village along a small road perpendicular to the river, crossing some gorgeous stretches of emerald rice paddy as we leave the river behind. The Vihara dates back to early last century. It was probably built on an older site, as indicated by the latérite foundations, and is home to some outstanding mural paintings. These, however, are starting to suffer from the weather. They remain one of the last survivors of cultural destruction that continues unabated due to the widespread indifference. Standing by itself in the middle of the rice fields, it is a modest pagoda that receives very few visitors. Its isolation may well be its undoing, as ut was the case for Wat Tani Pagoda in the province of Kampot.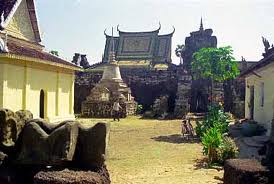 10:30:
Passengers re-embark to the Toum Tiou II. Lunch on the boat on the way to Kampong Chnang.
14:30:
Arrival at Kampong Chhnang. Visit the village and its environment.
It's located some 90 kilometers from Phnom Penh, the town of Kampong Chhnang is one of the largest fishing ports of the Tonlé Sap. Fish farming is also widely practiced in the area. The area is famous for its pottery ware, unchanged in style for centuries, which is produced in sufficient quantities to supply the entire country. And not to be overlooked are the products of the Thnot tree (sugar palm – a real national symbol) that abounds in the area: a mellow tasting, caramel-colored sugar sold in large cakes and palm wine.
18:00:
Re-embarking the boat, Toum Tiou II leaves Kanpong Chnang, direction to the Tonle Sap Lake. Toum Tiou II drops anchor for overnight at the entrance of the Grand Lake Tonle Sap.
19:00:
Dinner and overnight on boat.
Day 03: Sun 29 Jan 12: Chnok Trou – Siem Reap
07:00:
Breakfast during navigation.
08:00:
Passengers embark the local boats
High water (July – December) for visiting Chnoc Tru
Almost totally overlooked by tourists because of its remoteness and difficult access, the village is completely self-sufficient. A floating school, factories to make ice for fish preservation, church, pagoda, service stations, pigsty, stores, boat or television repair shops, video club, karaoke bar, police station... everything is on the water. All trades are represented and everybody, from children to grandparents, goes by boat through the network of canals that cross this little town.
10:30:
Passengers re-embark the Toum Tiou II. Time to pack and relax for a half a day. Lunch during navigation on the Tonle Sap lake.
17:30:
Arrival to Phnom Krom, pier of Siem Reap, transfer to city.
18:00:
Arrival to FCC Hotel. (End Service)