Events & Festival

To know the Cambodian culture in a better way, you must visit the country during one of the festivals and events in Cambodia . The country of Cambodia or the Kingdom of Cambodia is one of the most beautiful travel destinations in the southeastern part of the Asian continent. The cultural and traditional background is very rich in this country.

Full moon (Meak Boja), January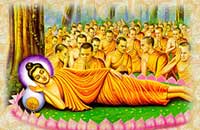 It is celebration day for Buddhism religion when all Buddhism -disciple and monks gather nearby Buddha who informed and foreseen that Buddha will die within near future and on Full moon.
Khmer New Year, April


Great Traditional Holiday according to Buddhism religion that
Cambodian people gather at pagoda to offer food, cake, drinks and money to monk to dedicated in favor the relative's death. within 3 days celebration. Khmer New Year is celebrated for three days: The first day of New Year is called as Moha Sangkran, and it can be described simply as the inauguration of the New Angels who come to take care the world for a one-year period.
This year is the year of Cow (Chlov), and Moha Sangkran of the New Year will begin on April 14th at 01:36. People need to clean and decorate the house and also prepare fruits and drinks for the New Year inauguration and to welcome the New Angels at every single home. Elderly people like to meditate or pray the Dharma at that time because they believe that any angel who comes to their houses at that time will stay with them and take care of their family for the whole year.
Full Moon ( Visak Boja), May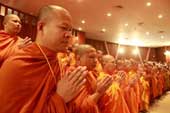 It is a great celebration day according to Buddhism religion dedicated for Buddha's birthday, Illumination day and go away to Nirvan.
Royal Plowing day , May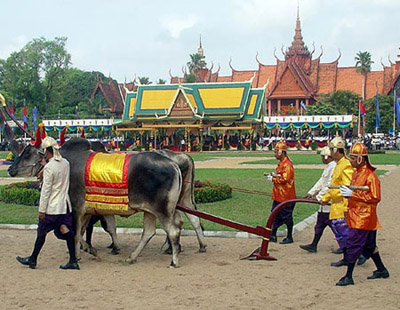 It is a Traditional celebration day that King or His representative inaugurate and ploughing field as symbol to remind people that rainy season arrive and start stimulating paddy-field to produce rice. This celebration day is usually held in Meru Area close to Royal Palace.
King Sihamoni Birthday 13-14-15 May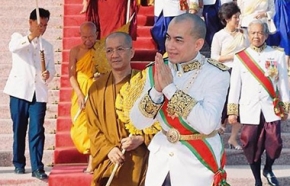 Today is the birthday of Cambodia's King Sihamoni, so three
days of birthday celebrations begin today, followed by the Ploughing Day Holiday which features a cermony at the park next to my apartment and the Royal Museum. We're open as usual but a lot of businesses will be closed for the extended holiday. I'm hoping we get a royal sighting because it's such a treat for staff to see the young king go by in his car, hanging half way out the window to greet everyone with an energetic wave.Happy Birthday to His Royal Highness King Sihamoni.


Death's Traditional ceremony "Bchoum Ben", September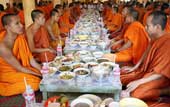 It is also Great Traditional Holiday that Cambodian people gather at pagoda to offer food, cake, drinks, money to monks to dedicate for their relative's death. This Traditional ceremony start 15 days prior to last 3 days in September , and will be held at Pagoda to offer food, drinks every day to monks.



Independence Day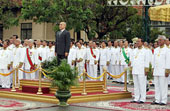 , November
A flotilla of legendary swan is followed by Cambodian civil servant officers during November 09, in front of Independence Munument in Phnom Penh was inaugurated in 1962 to celebrateCambodia's independence from foreignrule.



Water Festival, November

It is Great Traditional Holidays that on this season water flow back from Tonle Sap river to Mekong river. It last 3 days ceremonies with racing boat on Tonle Sap River in front of Royal Palace presided first day and end of ceremony by King or His representative. There are also 3 nights cortege of boat-light of each ministry after end of each racing day till early morning on the next day.

---
Travel Trade Shows
---
Each year Asia Explorer Travel - Cambodia attends dozens of Trade Shows around the world to meet with our valued agents and share our latest products. Below you will find a list of the shows we are attending in the coming months along with our booth location and attendee details. Complete the online form to schedule an appointment with our Asia Explorer Travel - Cambodia representative.
ITE
Start Date: 01.OCT.09
End Date: 03.OCT.09
City: HO CHI MINH CITY
---
ITB Asia
Start Date: 21.OCT.09
End Date: 23.OCT.09
City: SINGAPORE
---
World Travel Market
Start Date: 9.NOV.09
End Date: 12.NOV.09
City: LONDON
---
Pure Life Experiences
Start Date: 16.NOV.09
End Date: 19.NOV.09
City: MARRAKECH
---
EIBTM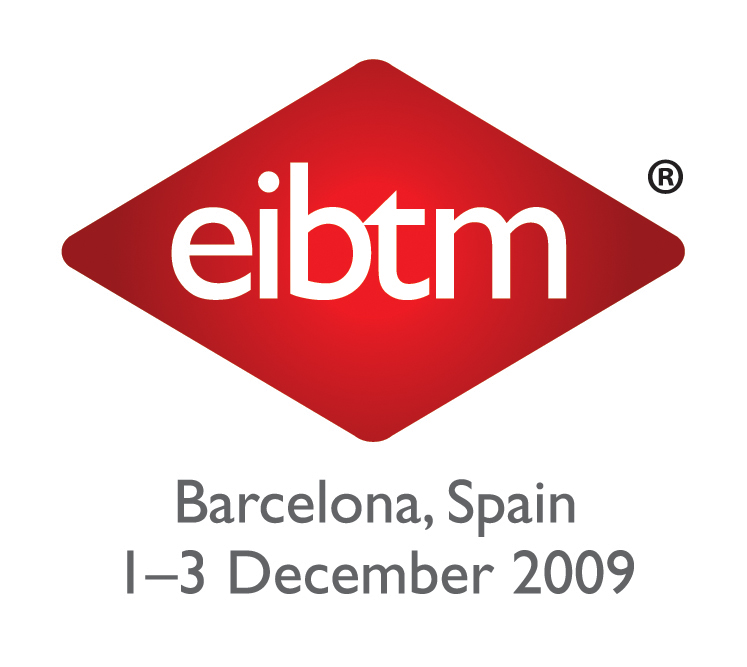 Start Date: 01.DEC.09
End Date: 03.DEC.09
City: BARCELONA
---
Asean Tourism Forum

Start Date: 21.JAN.10
End Date: 28.JAN.10
City: BRUNEI
---
FITUR
Start Date: 27.JAN.10
End Date: 31.JAN.10
City: MADRID
---
ITB
Start Date: 10.MAR.10
End Date: 14.MAR.10
City: BERLIN
---
AIME

Start Date: 27.APR.10
End Date: 28.APR.10
City: MELBOURNE
---
IMEX
Start Date: 25.MAY.10
End Date: 27.MAY.10
City: FRANKFURT